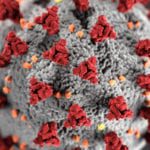 At last, you may think, back to normality.  Well, the good news is there is a big improvement in the experience of taking your pet to the vet, the bad news we're not quite there yet.
New cases of Covid-19 are still very high, but the chances of hospitalization and serious illness has reduced, especially for those who are vaccinated.
The "pingdemic" is now over which means that if one of the practice team tests positive, we no longer have close the surgery.
We can finally let owners back into the consulting rooms with their pets, we can now ask owners questions as we notice abnormalities during the examination, fantastic!  The clinical examination is the cornerstone of good diagnostics, not having the owner in the consulting room has made this process less efficient and less effective.
We do like face-to-face contact to our clients – the social benefits of being able to see and talk to real human beings has been highlighted during this pandemic.  We still ask that you continue to wear a mask inside the surgery, working with a pet over a table does bring us into close contact.
Remember vaccination yourself against Covid-19 is the single best way of protecting yourself and everyone you encounter from this terrible infectious disease.  The principles of using vaccination for protection against a disease remain the same, for both humans and pets.
This has been a very challenging time for all of us and I want to thank you all for your patience and continuing support. Hopefully the situation we find ourselves in will continue to improve.
Best wishes,
Alan and the team.