Give your pet the very best preventative healthcare.
Stuck at home, can't get to the vet?
No need to worry if you can't get to our vet practice – you can now have a live vet video call appointment direct from your home, or anywhere you are.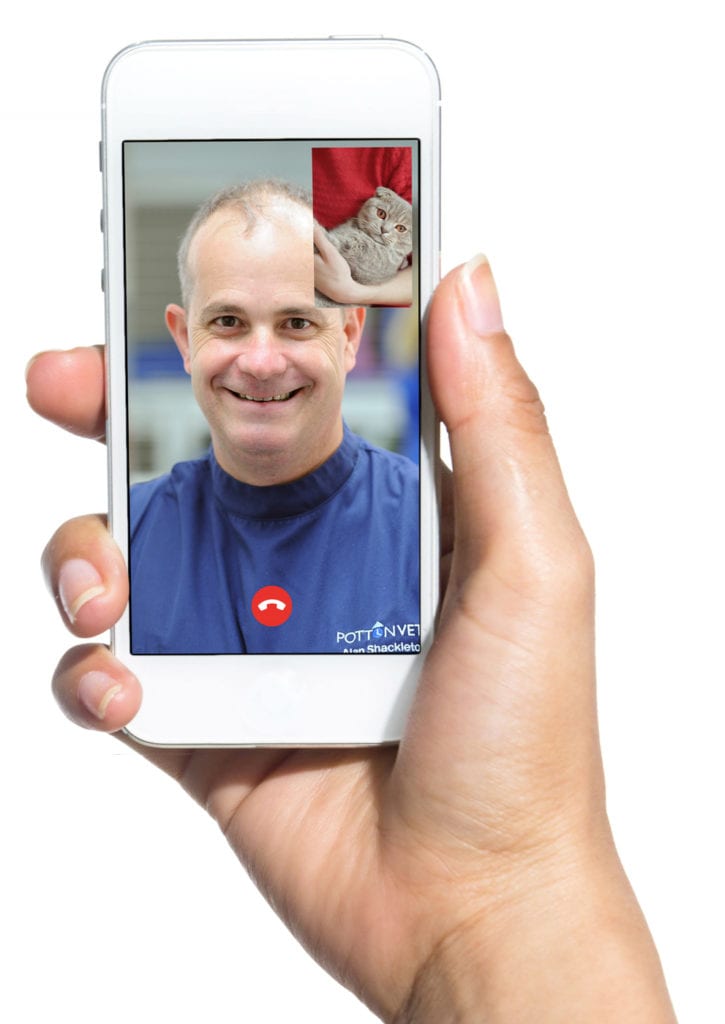 Speak to a qualified vet via mobile phone using WhatsApp or Skype, from the comfort of your home or on the move..
Speak to a qualified vet via mobile phone using WhatsApp or Skype, from the comfort of your home or on the move..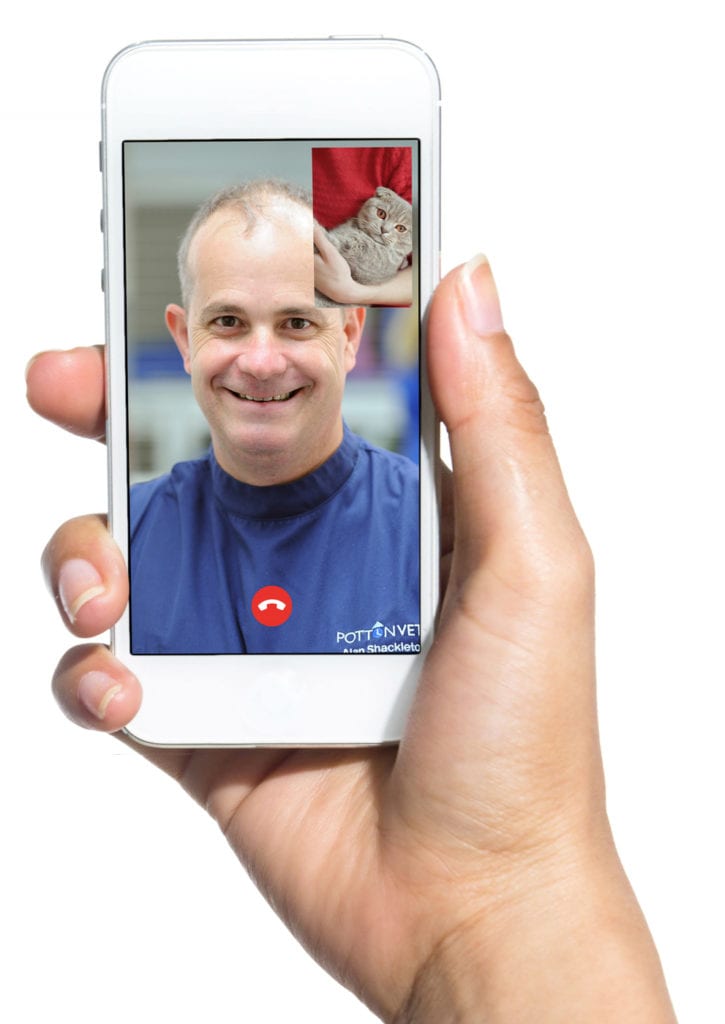 Potton Vets is an independent, family run, full service veterinary center. Our friendly team provide quality veterinary care for your family pets.
We are a diagnostic practice – we aim to get your pets' treatment right from the first visit which gets them feeling better quicker, reduces unnecessary repeat visits and helps reduce antibiotic resistance.
Our team at Potton Vets are true professionals, dedicated to providing the very best in veterinary care for your family pets. We provide a complete pet care service, with everything your pet could need, from advanced surgery to plain good advice.
Our clients say we are friendly and helpful. Caring for your pet's health and wellbeing is a pleasure. In a serious situation, we have all the equipment and expertise needed to make a difference. Our loyal clients are from Potton, Biggleswade, Sandy, Gamlingay and the surrounding area. We are pleased that they also come from as far afield as Bedford, Cambridge, St Neots and Stevenage.
Our Pet Health Club gives you complete pet care and keeps costs down, with the ease of equal monthly payments.
Excellent preventative health care alongside accurate diagnostics means we see fewer repeat visits than many vets.
We always see emergencies immediately during opening hours and provide 24-hour emergency cover through a dedicated out of hours service where there is a vet and nurse working throughout the night.
Open until 7pm
We know that you don't want to have to take time off work so we offer appointments until 7pm Monday to Friday and midday on a Saturday.
Unlike many vet practices we allow 15 minutes for every appointment giving plenty of time to thoroughly check your pet and advise on the best course of treatment.
Helpful printed notes
We always print out your notes and explain them so you are fully aware of your pet's diagnosis and treatment.
Family-run Practice
In our family-run practice our ethos is to provide the highest standard of veterinary care to pets who are seen as part of the family.
Potton Vets look after my 3 dogs. The service and level of care is excellent. All of the staff are friendly, kind and caring. I would not take my dogs anywhere else for their veterinary care.

Melanie Best
09:02 03 Sep 21
Always had excellent service at potton vetsBecky the vet was absolutely fist class with my rats 🐀 and everyone there lovely with my cats and dog would recommend 👌

jamie Alami
12:22 02 Sep 21
Took my friend's cats to the vets. One is quite unwell. However, they were fantastic with her as she needs everything in straight forward words to understand it. Great staff

Sara forsdyke
14:22 11 Aug 21

Mel Woolfe
12:02 03 Aug 21
Very friendly staff and helpful.

Rachel Lagowski
11:05 14 Jul 21
First of all, staff is incredibly friendly, from receptionist to nurses and vets. Have seen a lot of vets in different places over the years and I am very impressed by the way people working here actually approach and deal with animals, even under stressfull circumstances they manage to make animals feels as comfortable as possible. They offer a huge range of treatments for a rather small clinic. Always been happy with treatment and advice I got. And their online booking system and reminders come in super handy!

Anke Weimann
09:24 04 Feb 21
This is the best vets we've ever belonged to. Very friendly staff and the vets are brilliant with our nervous German shepherd.

Leathon Lagerwall
18:17 09 Jan 21
Fantastic vets. Extremely knowledgable and caring.

Hannah Harward
22:20 12 Dec 20
Friendly, helpful, knowledgeable, caring, they go the extra mile to help. We have been taking our pets here for 15 years, and can't speak highly enough of Potton Vets. Excellent service, excellent pet care.

Sarah Banks
12:21 08 Dec 20
My family have always taken our pets to Potton Vets, it's clear the team genuinely cares about their work and have been brilliant through it all, thank you again!

Nia Hoffmann
17:03 06 Dec 20
These have been our regular vets for years now and they've always been fantastic. Whenever we've taken pets there for treatment, they've been supportive, professional and excellent at their jobs. They've always gone the extra mile with being sympathetic and caring when we've had to take pets to be euthanised as well. Quality service, would recommend.

Lovely Vets and honestly lovely people too. Always very helpful and friendly. Took my cat a few times and it was always super professional and a calm environment. Would recommend

Lucy Anderson
15:32 06 Dec 20
Lovely vet practice, with diagnostic capabilities to get to the bottom of any issues. Our guinea pigs were right at home here.

Steven Bratton
18:28 01 Dec 20

They are friendly while still professional. You can tell they really care about the well being of the animals

Linda Ferguson
11:39 18 Aug 20
Iv always taken my animals to potton vets. The staff are absolutely lovely! They always coo over my girl when we take her in and she gets excited to go! What dog likes going to the vets?! Safe to say I wouldn't go anywhere else ❤️

Jaimie-Leigh Cole
09:18 03 Aug 20
Staff are always very friendly and take the time to explain everything. Would highly recommend this vets

Ray Holland
10:11 24 Jun 20
We had fantastic service from Potton Vets. We highly recommend them. Thank you so much for your help.

Allison Dawson
12:15 12 Feb 20
I cannot thank potton vets enough. I brought karma the 18 month old rottweiler in as she seemed a bit under the weather and I thought it best to get her looked at. We booked an appointment and arrived at the end of the day. The suggested an x ray but due to funds being tight in january I couldn't afford it so I was about to walk away. I was strongly advised to stay and let her have an x ray and it saved her life!!! She was rushed into surgery for a ruptured gastric ulcer and was advised that there will be a risk. Essentially warning me to be prepared for the wors . 2 days later and karma has done a complete 180 and on top of that she loves the vets!! After her surgery the vet called me past 10pm to say he can take her to out of hours but offered to take her home with him! The best place that she can possibly be after such a procedure with a designated space for her. Her stitches look amazing and they even gave me a fitted sweater for her to stop her biting her stitches rather than a cone. Karma has gone from deaths door to almost a regular puppy again in 48 hours. Shes my best friend and I couldn't put into words how I'd feel if I lost her. And i wouldn't trust her in anyone elses hands but these guy . I am aware that karma is not completely in the clear yet as she has peritonitis which has a worryingly high mortality rate so they have her booked in every morning to make sure that it is clearing up as it should when they dont need to. They seriously go out of they're way for your pets!!

Rees & Morgan
01:18 30 Jan 20
Always had fantastic service from Potton Vets. The staff are professional and experts in their field. They are always very friendly and fantastic with the animals. The facility has a wealth of cutting edge treatments and equipment and I cannot recommend them enough. The pet health club that they offer is well worth considering and is a good idea to join. Best vets in the area by far!

Pete Hillier (A4 marketing)
11:56 24 Nov 19
At last, you may think, back to normality.  Well, the good news is there is a big improvement in the experience of taking
Read More »
Covid Update Consultations throughout the Covid period has been difficult for our patients, our clients and our team.  We have moved from emergency video
Read More »